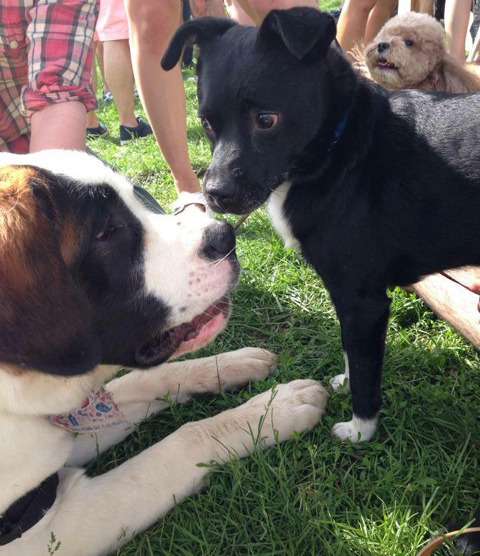 Dog Staring Contest Ends in Stalemate
by Scott Friedstein, FluffPo Correspondent
It was just another quiet Sunday afternoon in Brooklyn's Prospect Park.
That is, until Rosie the St. Bernard showed up.
"She's Gavin's longtime foe," explains Kristen Arnold, referring to her Lab-Chihuahua mix. 
Though the two have faced off before, witnesses tell The Fluffington Post that this was their most dramatic match yet.
"They have these really intense staring contests," says parkgoer Phil DeBoer. "This one was different, though. Quite frankly, we weren't sure how it was going to end."
The rules were the same as always: First one to break concentration, loses. Fortunately, both pups were distracted by the same flying frisbee.
"Can't say that's ever happened before," says Arnold. "Gavin was pretty disappointed."
Bruised egos notwithstanding, a rematch is already rumored.
"Oh, it'll happen," says DeBoer. "I'm betting my entire Sunday on it."
FluffPo Exclusive.
Love animals as much as we do? Check out explore.org's network of live puppy and kitten cameras.