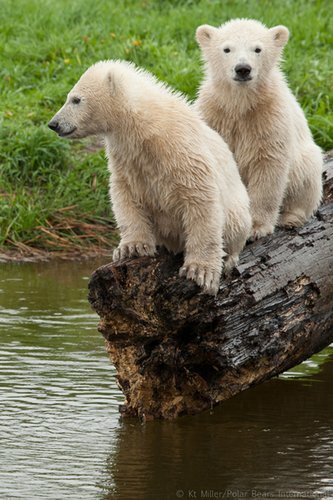 Polar Bear Theme Park Hits Snag
by Scott Friedstein, FluffPo Correspondent
All Lars and Olaf wanted was their own theme park.
The enterprising polar bear twins had begun construction on the project, only to have it hampered by a fundamental lack of engineering knowledge. 
"They didn't really know how rides worked," says business partner and friend Anthony Malick. "The log ride was especially problematic – after they realized the mechanics involved, they kind of had to start from scratch."
Barring further delays, Polar Land is now expected to open sometime this fall. 
"I can't wait – and neither can our investors," says Malick. "It's going to be a big success, though – assuming they get the controls for the Polar Coaster worked out."
Via explore.org.
Love animals as much as we do? Check out explore.org's network of live cams on bears, baby birds, puppies, kittens and more.