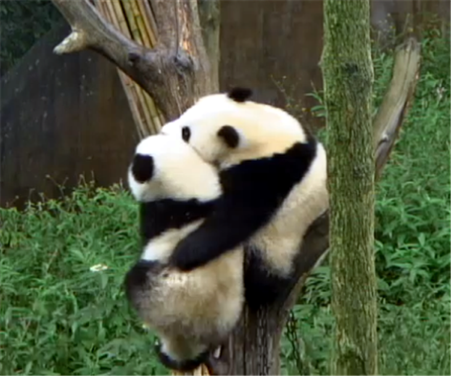 Panda Safe After High-Stakes Tree Rescue
by Scott Friedstein, FluffPo Correspondent
According to sources, Ming the panda is safe on the ground this morning after becoming trapped in a tire swing at least three feet from the ground. Witnesses tell The Fluffington Post that her brother, Bao Lao, quickly assessed the situation and sprung into action.
"She's in that tire swing all the time," says Richard Beck. "I knew she was eventually going to get stuck in it. It's a good thing Bao Lao was around, because I definitely wasn't going up there."
The three-year-old panda was shaken, but quickly returned to her normal panda activities. 
"She went to sleep," says Beck. "I don't blame her, though – I'd be exhausted too if that happened to me."
Via explore.org.
Love animals as much as we do? Check out explore.org's network of live cams on bears, baby birds, puppies, kittens and more.